Summary:
Lucas Entertainment raises its stakes in London and invests in a new set of international guys with plenty of "British Pounds" to offer! And no one pounds better than English sex star and Men.com exclusive Paddy O'Brian, As Lucas exclusive Jonathan Agassi finds out.
Description / Review:
Scene 01: Jonathan Agassi and Paddy O'Brian
Paddy O'Brian takes a well-earned break after he and Jonathan Agassi work on fixing up an old warehouse. Jonathan takes a lunch while Paddy rests his big sweaty muscles. While he sits idly by he touches his aroused crotch; Jonathan returns and notices the lump growing in his buddy's pants. Jonathan runs his hand over the bulge before pulling it out and swallowing the fat piece of meat with his wet lips and hungry throat. Paddy enjoys the service and Jonathan doesn't waste a second offering it. Paddy and Jonathan climb the scaffolding for a view while Jonathan eats out the top's hairy man-ass before he bends over and prepares himself for Paddy's hard, thick cock. Paddy bangs Jonathan's cheeks hard before they hop down and get dirty on the mattress. Paddy ensures that Jonathan feels every inch of his manhood as they fuck toward climax!
Scene 02: D.O. and Issac Jones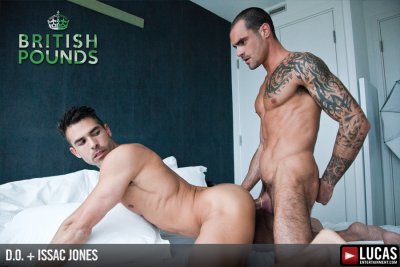 The Argentine hunk known only as D.O. patrols the streets of Birmingham searching for sex; by chance he encounters Issac Jones, who leads D.O. back to his apartment for a hook up. They begin making out once they're through the door before D.O. takes the dive and starts sucking on Issac's hard uncut cock. After throat pumping his partner, Issac shows D.O. what he's made of and swallows his uncut Latin cock, playing with the head and foreskin before deep-throating him; D.O. gets excited and even face-pumps him! D.O. and Issac Jones head over to the bed and lick each other's assholes; afterwards Issac grabs a condom and wraps up his piece. With a hard plunge followed by fast thrusts he fucks D.O. hard, and he only asks to get fucked harder! D.O. even lets Issac relax for a bit while he shows off his bottoming skills and fucks himself on Issac's erection! They flip and D.O. tears a condom out of its wrapper, sheathes his dick, and hammers Issac like a dog in heat; and for added effect D.O. pinches hold of Issac's nipples as he rides his ass!
Scene 03: Dean Monroe and Tomas Brand
Dean Monroe's car problems leave him no choice but to stop at a garage and ask the mechanic, Tomas Brand, for help. He's willing to look at Dean's car, but he has no money to offer him. Instead, Tomas works out another deal: if he puts out for Tomas then and there on the spot he will fix his car. Dean doesn't have much problem with the agreement and drops to his knees to begin offering payment. He gives Tomas a long-lasting blowjob, savoring every inch of the top's thick, uncut cock. Dean bends over so Tomas can eat him out vigorously, wetting down his hole before rolling on a condom and claiming what he really wants. Tomas takes a seat on some of his equipment and Dean takes a seat on the top's throbbing erection, lowering himself deeper and deeper until Tomas is deep inside him. Tomas takes his payment by giving Dean a long fuck he will not soon forget!
Scene 04: Michael Lucas and Leo Domenico
Michael Lucas spots Leo Domenico, a young and handsome hunk ready for sex, and whisks him away into a great English manor. Michael places a "Do Not Disturb" on the door and moves in to make out with Leo, who loves all the attention the porn legend showers on him. They kiss against the bedpost before Michael directs Leo down to his knees to suck on his erect 10 inches of uncut cock, and there's no shortage of slobber strands as he does the sucking! Leo's chest, stomach, and legs are covered in the sexiest down of short course body hair and it's never been more masculine on any other gay porn star! Michael is prepared to put Leo through some serious acrobatics, but first he lubricates the guy's hole with his tongue. With his condom on, Michael fucks Leo in all sorts of positions: doggy, on his stomach, missionary, and even some reverse jackhammering!
Scene 05: Jonathan Agassi and D.O.
There's something exceptionally sexy about a couple of hot sweaty gay guys having a solid workout in the gym, and when they throw in some sex afterwards the package is complete! That's what we have here with Jonathan Agassi and his gym buddy D.O. -- after their workout they show each other what they're made of when the clothes come off and their cocks are hard! Rough, rugged kissing in some sweaty jockstraps' Check! Big hard dicks swallowed up deep-throat style by two horny throats' Check! Insatiable ass eating and tongue licking' Check! And best of all, our favorite porn stars Jonathan Agassi and D.O. bending over for a fucking neither one will forget' Check! D.O. first lowers himself onto Jonathan's erection and takes a ride, and then they switch around so Jonathan can show off once again what a sex pig he is by taking D.O.'s huge uncut cock deep in his hole!